5 Essential Apps for Students: Balancing Study and Leisure
12.09.2023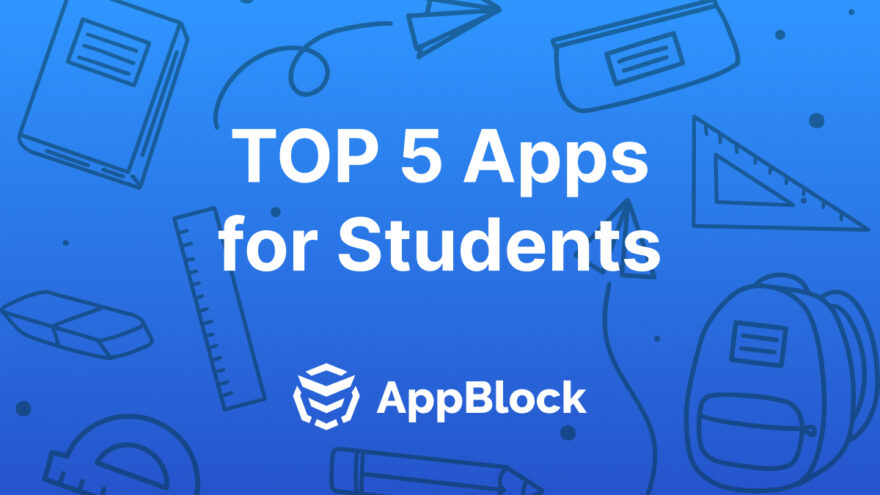 In today's fast-paced digital age, it's imperative for students to have the right set of apps to ensure a harmonious blend of study and relaxation. The right tools can make all the difference in ensuring productivity while also giving students the space to unwind. In this article, we'll be looking at five indispensable apps that every student should have on their devices. Let's dive in!
1. AppBlock: Your Personal Digital Guardian
We all love our smartphones, but sometimes they can be our biggest distraction, especially when it's time to study. That's where AppBlock comes in.
Why AppBlock?
Distraction-Free Study: With AppBlock, you can block distracting apps and websites during study hours, ensuring that you stay focused.
Custom Schedules: Set schedules for block sessions – perfect for consistent study routines.
Boost Productivity: Track your phone usage and get insights into your habits. The more you know, the better you can manage your time.
Remember, while leisure is essential, making the most out of your study time is equally crucial. And AppBlock ensures you do just that.
2. Spotify: Your Ultimate Study Playlist
Music can significantly impact our concentration and productivity. Spotify is a top music streaming service, offering a plethora of playlists tailored for study and focus. Whether you prefer classical music, lo-fi beats, or nature sounds, Spotify has a study playlist for every mood.
3. Todoist: Organize Your Life
Keeping track of assignments, classes, and other tasks is a breeze with Todoist. This intuitive task manager helps you organize your academic and personal life with ease. Set deadlines, prioritize tasks, and never miss a beat.
4. Notion: An All-In-One Workspace
Notion serves as a note-taking app, a to-do list, and a collaborative tool. Its versatility makes it ideal for students. Whether you're taking lecture notes, planning group projects, or just jotting down ideas, Notion has got you covered.
5. VOS Health: Wellness and Self-care
Being a student can be stressful, and it's crucial to prioritize mental well-being. VOS Health offers tools and resources for mindfulness, meditation, and overall wellness, helping students manage stress and stay balanced during their academic journey.
Conclusion
Balancing study with leisure doesn't have to be a daunting task. With the right set of tools, you can ensure that you're making the most out of your academic journey while also taking time to relax and enjoy life. So, equip yourself with these essential apps and set yourself up for a successful and balanced school year.
Don't let distractions hold you back this school year. Download AppBlock for both Android and iOS today and take control of your productivity! Join our Community on Discord for a chance to win AppBlock Premium