Embrace the Power of Focus: How AppBlock Helps You Achieve More this April
03.04.2023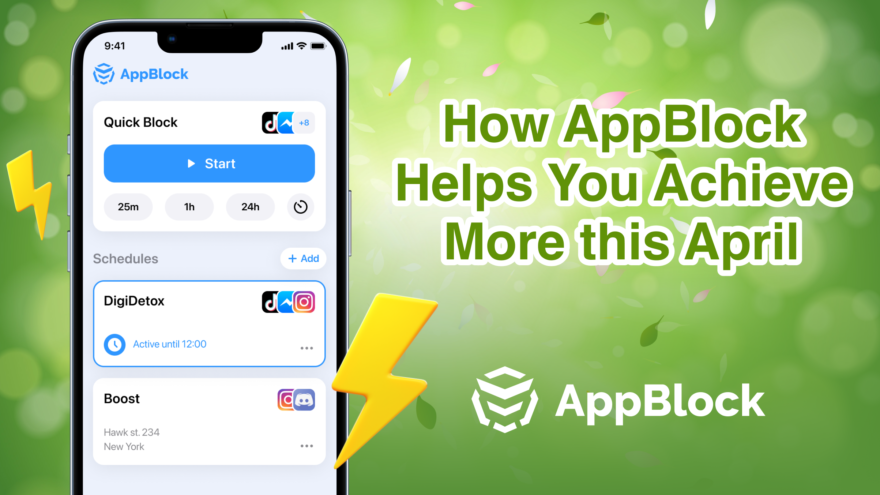 Spring is in the air, and with it comes a renewed sense of energy and motivation. It's the perfect time to set our sights on new goals and aspirations. However, the season can also bring distractions that make it difficult to maintain focus and productivity. This April, take control of your digital life and embrace the power of focus with AppBlock, the ultimate tool for keeping you on track to achieve more and see better results in May.
April Showers Bring May Flowers: The Power of Focus
The old adage, "April showers bring May flowers," has a deeper meaning than simply describing the weather. It represents the idea that putting in focused work and effort during April can lead to fruitful results in May. The same principle can be applied to your personal and professional life. By concentrating on your goals and staying disciplined, you'll be more likely to see the results you desire come May.
Stay on Track with AppBlock's Features
AppBlock is a powerful app that can help you maintain focus and productivity during the busy spring season. Here's how:
1. Block Distracting Apps
AppBlock allows you to select specific apps that may be stealing your focus. By blocking these digital distractions, you can concentrate on what truly matters.
2. Schedule Your Blocks
Customize your blocking schedule to suit your needs. Set up recurring blocks for certain times of the day, specific days of the week, or even during certain hours. This flexibility ensures you can work around your personal and professional commitments.
3. Monitor Blocked App Attempts
AppBlock keeps track of how many times you tried to access blocked apps. This feature helps you realize if you've developed a bad habit and need to make adjustments to your blocking settings or work on your self-discipline.
4. Customize Blocking Profiles
Create custom blocking profiles for different scenarios, such as work, study, or relaxation. By tailoring your blocking settings to match your specific needs, you'll be better equipped to maintain focus and productivity in any situation.
5. Keep Essential Apps Active
With AppBlock, you have full control over which apps to block, ensuring that essential apps remain active. This way, you won't miss important notifications or messages while still eliminating distractions.
Embrace the Journey to Better Results
This April, embrace the power of focus and let AppBlock help you stay on track to achieve more. By taking control of your digital life and eliminating distractions, you'll be better positioned to reach your goals and enjoy the fruits of your labor come May. The journey towards better digital well-being and increased productivity starts today. Are you ready to embrace it?
Ready to Spring into Action?
Don't let distractions hold you back this spring season. Download AppBlock for both Android and iOS today and take control of your productivity!
Easter egg: Android – V9AG5C8B60LRDMTYBMT49E7 ; iOS – LXJJLR8TLHT8LHKMHL