Spring into Action: How AppBlock Can Help You Stay on Task
01.03.2023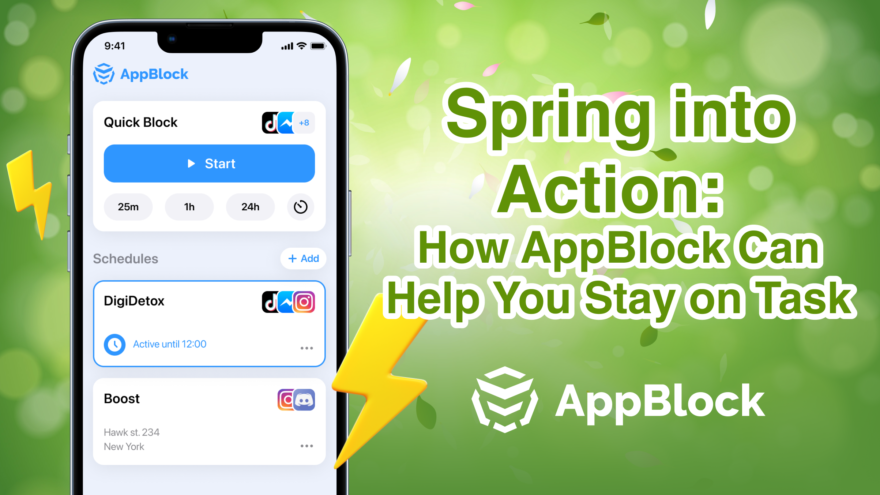 Are you struggling to stay productive as the days get longer and the weather gets warmer? You're not alone! Many of us find it challenging to stay focused during the spring season, but AppBlock can help. Here are some ways in which AppBlock can be an essential tool for boosting productivity during the spring season.
1. The Power of AppBlock
AppBlock is an app designed to help you stay focused on your goals by blocking distracting apps and websites. With AppBlock, you can set up custom schedules for blocking certain apps or websites during specific times of the day. This means that you can limit your social media use during your work hours, or block gaming apps during your study sessions. By doing so, you can free up more time and focus on the tasks that matter most.
2. Choose from Different Conditions for Blocking Apps
AppBlock allows you to choose from different conditions for blocking apps. For example, you can set up usage limits, which will give you a certain amount of time per day to use distracting apps. This can be helpful for gradually changing your behavior and reducing your dependence on these apps over time.
AppBlock also offers a Strict Mode, which can be particularly useful for those who have a hard time sticking to their productivity goals. When Strict Mode is active, you won't be able to change your blocking settings, which means that you can't simply turn off AppBlock and start procrastinating again. This can be a powerful way to build better habits and stay on track with your goals.
3. Track Your Productivity
With AppBlock, you can also track your productivity and monitor your usage patterns. By keeping tabs on your progress, you'll be able to identify which apps and websites are your biggest time-wasters and adjust your habits accordingly. This feature can be especially helpful for students and professionals who need to manage their time effectively and make the most of their workday.*
4. Real-World Examples
Finally, we wanted to share some real-world examples of how AppBlock has helped people achieve their productivity goals. For example, Anna, a college student, used AppBlock to limit her social media usage during the day, which allowed her to focus on her coursework and complete her assignments more efficiently. Jack, a software developer, used AppBlock to block access to news websites during his workday, which helped him stay on task and avoid distractions.
Conclusion:
With the start of spring, it's time to take action towards achieving your goals. AppBlock is a powerful tool that can help you stay on task, block distracting apps and websites, track your productivity, and ultimately achieve more. By leveraging its features, you can maximize your time and enjoy the benefits of increased productivity. Try AppBlock today and spring into action towards your goals.
Ready to Spring into Action?
Don't let distractions hold you back this spring season. Download AppBlock for both Android and iOS today and take control of your productivity!
*On iOS, this feature is in the BETA version. You can find it under "More" -> "Statistics"